If you've set up new Google Analytics 4 properties for your websites and applications, and don't know how to use them, you're not alone. We tackle common GA4 questions before the sun sets on Universal Analytics.
In just over a month, Google will retire its well-known Universal Analytics (UA) measurement platform, leaving in its place the tech giant's new and "improved" Google Analytics 4 (GA4).

If you manage websites and web applications that rely on Google Analytics (GA), hopefully by now you've set up complementary GA4 properties for each UA property in your collection and done your level best to ensure your GA4 properties look and function similarly. That's because you cannot import or do a straight "migration" of your UA data into your GA4 property. You can feed data into parallel UA and GA4 properties simultaneously until UA sunsets on July 1, 2023, and stops processing web traffic. For months, Google has been encouraging Analytics users interested in year-over-year analysis to establish a data overlap between UA and GA4 properties, so they aren't switching cold turkey.
While there is still much buzz about the new features and highly customized reporting tools GA4 offers, legitimate concerns about key distinctions in the way UA and GA4 work have many digital marketers worried they'll need to become data scientists to fully understand and leverage the next generation of Google's free analytics tool. A different approach to the GA data model and what's prioritized, as well as changes to available data visualization tools, are at the heart of these questions and confusion.

Where UA data models are anchored in web sessions and pageviews, GA4 focuses its comparative analysis on site users and the type of "events" users trigger or experience on websites and applications, as they engage with content over time and across devices. Where UA offers a series of out-of-the-box reports that can be filtered for more granular detail, GA4 gives you the freedom to design your own reports and data "explorations" with customizable filters and variables. Turns out, all of that freedom is the problem: not everyone has the time, inclination, or skill set to start from scratch or go through the GA4 version of basic training.

For those needing guidance, there are digital marketing and analytics specialists who've been preparing for the GA4 cutover and can assist with the transition. We've been working with the team at Mannix Marketing on GA4 property set ups for some Culture Foundry clients and invited Mannix Director of Digital Marketing Danielle Martindale to answer common questions about GA4 and how best to prepare for the end of UA.
---
Answers to common GA4 questions
CF: How did your team prepare for the transition from Google's UA to GA4?
Danielle / Mannix: We started setting up GA4 accounts over a year ago to ensure clients had year-over-year data when UA stopped collecting data. We did not remove UA, but rather had both tracking codes running and collecting data for our clients' websites. This allowed us to compare the data coming in and understand the differences between the two methods of tracking.
GA4 was still rolling out at that point, so we started by simply setting up the account and letting it collect basic data. Then we added basic tracking that was available. E-commerce tracking and a lot of tracking for third-party platforms, such as reservation systems, was not available at that time. As these options have become available, we have worked to configure them in GA4.

CF: What challenges have you encountered in helping clients set up GA4 properties?
Danielle / Mannix: GA4 is a whole new beast, so the biggest thing was understanding how conversions that were set up in UA needed to be set up in GA4. That, and with the slow roll out, we were constantly waiting for the features our clients needed.


CF: For someone just beginning the GA4 set-up process, what are the most important things to focus on between now and the sunset date for UA?
Danielle / Mannix: Get the basic setup completed so you have data, such as pageviews, coming in. If you have a UA account already, Google has an automated option for setting up the basic GA4 account. Depending on your tracking needs, some modification might be needed, but get the basics completed at least.

CF: In terms of getting GA4 properties to mirror the configuration of their UA predecessors, are there any tricks/shortcuts you can share?
Danielle / Mannix: GA4 and UA are not the same, so it is important to understand that they will not be identical. You will not be able to compare GA4 data to UA data as apples-to-apples. The way the two systems collect data is different, so it is more like comparing an apple to an orange. That said, you can set up your GA4 property so it tracks all of the activities you were tracking in UA, it just might look different, be set up differently, and have a different naming convention.


CF: What are the biggest differences between UA and GA4 that Google Analytics users should understand?
Danielle / Mannix: There are so many differences when it comes to GA4. Here are some of the main ones everyone should be aware of:
1. Data Model: Universal Analytics uses a session-based data model. It tracks data based on sessions and pageviews, with additional custom dimensions and metrics. Google Analytics 4 uses an event-based data model. It focuses on tracking events and user interactions across multiple platforms and devices.
2. Tracking Scope: Universal Analytics primarily focuses on tracking website data, although it can be extended to track data from other sources, such as mobile apps. Google Analytics 4 is designed to provide unified tracking across various platforms and devices, including websites, mobile apps, and other digital environments.
3. Enhanced Machine Learning: Universal Analytics has limited built-in machine learning capabilities. Google Analytics 4 incorporates advanced machine learning models, such as predictive analytics and anomaly detection, to provide more powerful insights and automated analysis.
4. Data Control and Privacy: Universal Analytics provides more flexibility in terms of data control and processing, allowing users to customize data collection and storage methods. Google Analytics 4 places a stronger emphasis on data privacy and compliance. It aligns with Google's privacy principles and offers features like data deletion, consent mode, and granular user controls.
If you are looking to be GDPR compliant or compliant with other privacy policies, it is important to note that GA4 may not be 100-percent compliant depending on your set up, business, and what policies impact you, but GA4 does offer more protection than UA.
5. Reporting and Analysis: Universal Analytics offers a wide range of standard reports and customization options for reporting and analysis. It provides a mature and extensive set of features for in-depth analysis. Google Analytics 4 introduces a new user interface and updated reporting capabilities. It emphasizes exploratory analysis, provides more intuitive insights, and offers features like data exploration, analysis hub, and cross-platform reporting.

CF: Google provides online documentation and training materials to support GA4 implementation. That said, when should you seek expert help in setting up / configuring a GA4 property?
Danielle / Mannix: Everyone has different skill levels and time available to dedicate to learning this new platform. If you find yourself continuously putting this transition off, stop waiting and enlist the help of an expert. Also, if you are dealing with more advanced conversion tracking, such as e-commerce, or wanting to track reservations from a third-party booking system, you are going to want to enlist the help of a professional to ensure it is set up correctly.

---
Remember, the official sunset date for UA is July 1, 2023, at which time UA will stop processing new data. While you'll be able to access your UA data and generate reports using the retired platform for another full year—through July 1, 2024—you won't be able to migrate your UA historical data into your new GA4 properties. So, before July 1, 2024, download and archive any UA data and custom reports you want to keep for future reference.

If you have a UA property for your website but have yet to set up a complementary GA4 property for it, you will likely see a pop-up message like the one below when you access your UA property: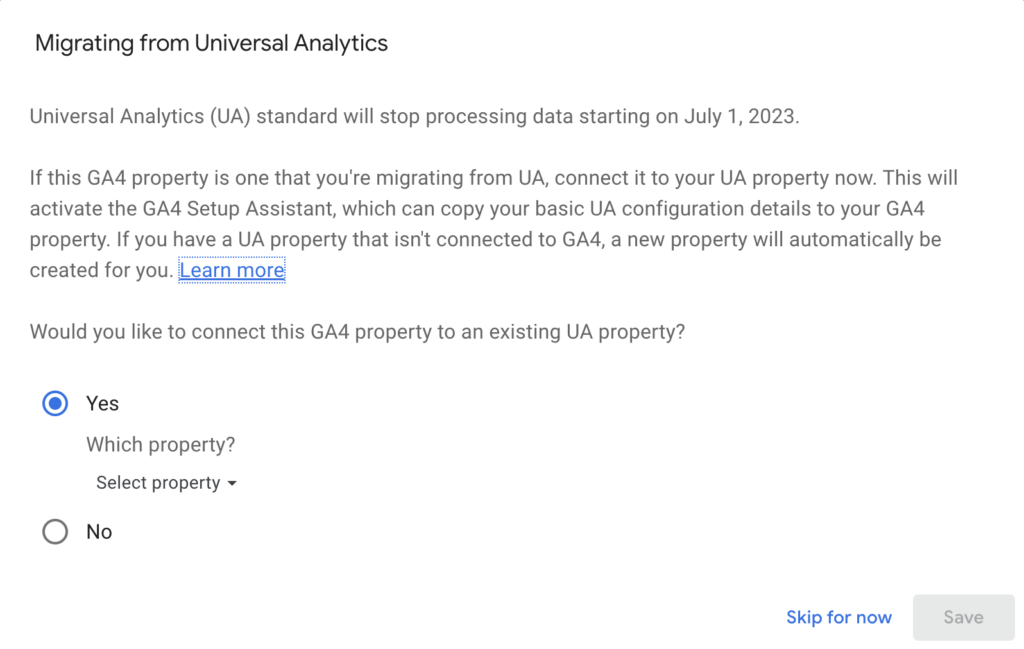 ---
Google will walk you through the steps to set up a GA4 property, connect it to your UA property, and use your existing UA property as a guide to configure your companion GA4 property through a "Setup Assistant." You can follow the visual prompts to complete the process and ensure you have data streams coming into your new GA4 properties (for websites and / or mobile web applications) in advance of July 1, 2023.

As previously stated, Google has provided a significant amount of online documentation and free training materials to help you make the transition from UA to GA4. We recommend starting with the Google Skillshop Course: Discover the Next Generation of Google Analytics for an overview of the GA4 platform and its capabilities.

If you need additional help upgrading your digital properties to GA4, fill out the form below, and our Crew will be in touch!

Culture Foundry is a digital experience agency that helps our clients elevate their impact with beautiful technology. We provide the expertise and insight at every layer that makes a great digital experience for websites and applications possible. If you're committed to elevating your digital experience, contact us and we'd be happy to schedule a chat to see if we're a fit.
(Psst! We also happen to be a great place to work.)